---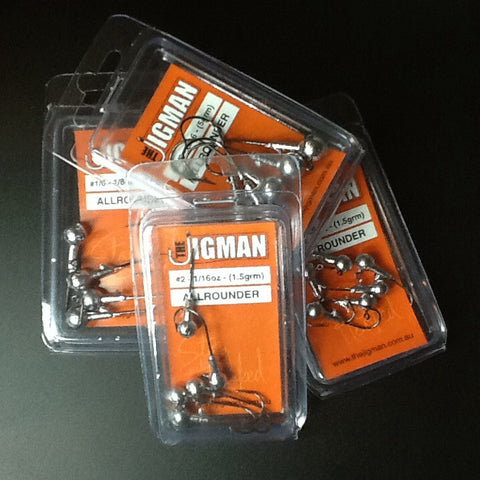 Allrounder
---
# Jigheads will come in plain ziplock bags.
Refer Terms and Conditions
As it name suggests the all Rounder Jig Head is a great all round Jig Head.  The All Rounder comes in a variety of sizes from Size 4 Hook for your Trout and Bream Fisho's to a 2/0 hook for Flathead and Snapper Soft Plastic Fisherman and all fishers in between.  It has a single Spur on its lead collar and a Ball head all Jig Heads in the All Rounder Series are fitted to a 90 degree Aberdeen style VMC Black Nickel Hook.  The All Rounder is very popular in the smaller sizes for Bream and Trout Soft Plastic Fisherman looking for that stealthy approach that you only get from this style of Jig Head and for Tournament Anglers who want to Butcher the hooks for pre-fishing a comp to find what Plastics the Fish are taking, a practice that is very expensive with name brand Jig Heads.  The larger sizes are very common for the tourist of someone just looking to hit the water cheaply.
Stay Hooked
---
More from this collection